The hearings in front of the Supreme Court, including all the Article 32 petitions, the impleadments, written submissions, and the media coverage are archived in this page.
While the curative petitions following the Supreme Court's Koushal judgement in 2013 have been pending, six new petitions were filed since then, under Article 32, which wee subsequently tagged together by the SC. A 5-member constitutional bench was formed to hear these petitions, which started on 10 July 2018 (see the notice of hearing and the cause list), and have been proceeding at breakneck speed since then. In addition, the original respondents in the curatives filed fresh petitions (Mental health professionals, Academics, Parents of LGBT children, and Voices against 377), which will be given time in the court as well. Additional petition by activists, and a recently filed one by Harish Iyer will be heard from 17 July onwards. Some of the parties opposing us in 2013 (JACK, Utkal Christian Council etc) are also being heard. Muslim Personal Law Board has announced its decision not to argue in favour of retaining S377 in light of the Right to Privacy judgement.
Last order, issued on 12 July 2018.
---
Article 32 Petitions
Navtej Singh Johar v. UOI:
Akkai Padmashali v. UOI
Keshav Suri v. UOI
Arif Jafar v. UOI
Ashok Row Kavi & others v. UOI
Anwesh Pokkuluri v. UOI
---
Written Submissions
---
Coverage by laywers and legal websites
Live Law:
BarAndBench
Lawyers Collective
CLPR
Danish Sheikh
---
Live updates from Supreme Court
Follow these twitter handles for live updates from the Supreme Court hearings.
We have retweeted all relevant tweets on the case from these four accounts here, which you can also see on this page.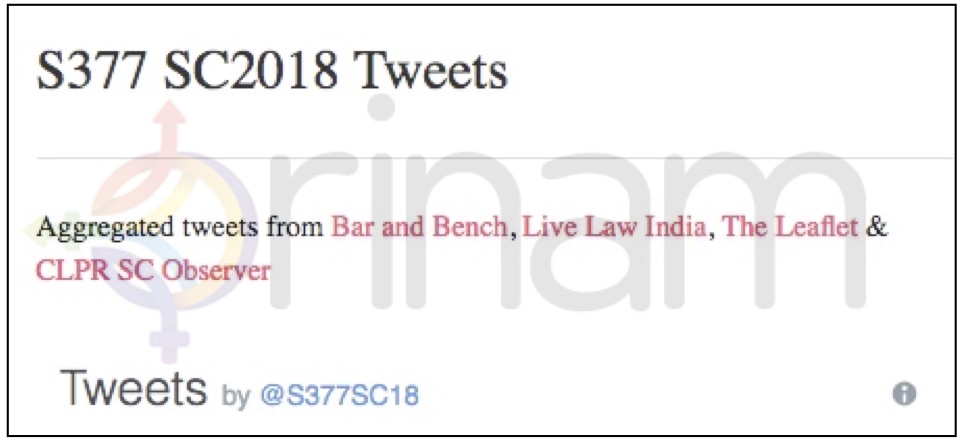 ---
Coverage in the print media
[new page]

---
Timeline of daily hearings
Day 1: 10 July 2018

Tushar Mehta for Govt of India
Mukul Rohatgi for Navtej Johar and Ors.
Arvind Datar for Keshav Suri
Saurabh Kirpal for Navtej Johar and Ors.

Day 2: 11 July 2018

Tushar Mehta for Govt of India
Saurabh Kripal for Keshav Suri
Menaka Guruswamy for Anwesh Pokkuluan and Ors.
Anand Grover for Arif Jafar
Anand Grover for Ashow Row Kavi and Ors.
Jayna Kothari for Akkai Padmashali and Ors
Shyam Divan for Voices against 377

Day 3: 12 July 2018

Shyam Divan for Voices against 377
Chander Uday Singh for Alok Sarin and Ors. (Mental Health Professionals)
Ashok Desai for Minna Saran and Ors. (Parents)
Krishna Venugopal for Nivedita Menon and Ors. (Teachers)
Tushar Mehta for Govt of India
Intervention Application for Naz Foundation
Manoj George for Utkal Christian Council & Apostolic Alliance of Churches
---