Bengaluru:
FB link to People's March against 377
Thousands of sexual minorities and supporters will march on the roads of Bangalore on 11TH JANUARY 2014 (Saturday) to protest against Section 377 of the Indian Penal Code. 3000+ people expected to participate.
PUBLIC RALLY starts at 1PM from BANGALORE CITY RAILWAY STATION
PUBLIC MEETING at 3PM at MALLESWARAM GROUND
ORGANISED BY: Coalition for Sexworkers and Sexual Minorities Rights (CSMR), Karnataka Sexual Minorities Forum (KSMF), Praja Rajakiya Vedike (PRV), Karnataka Sex Workers Union (KSWU) and 50+ other organisations
Chennai:
FB link to Tamil Nadu Protests against 377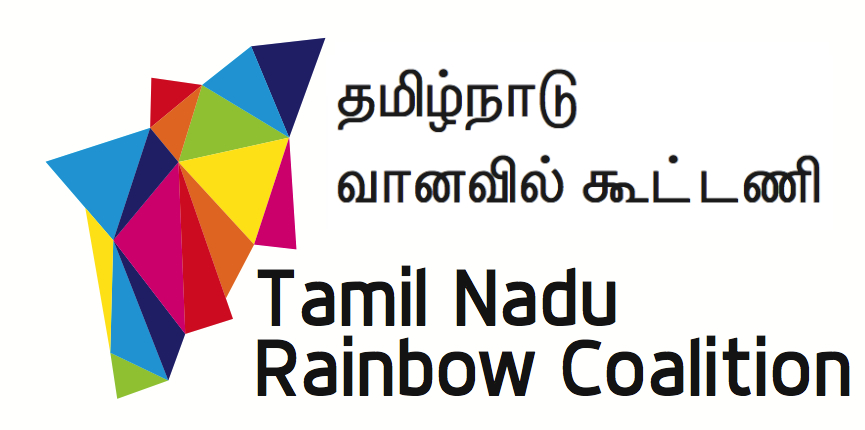 With permission from Chennai Police, the Tamil Nadu Rainbow Coalition* is organizing a rally at Valluvar Kottam on Saturday, January 11, 2014. The rally begins at 3 pm, and focuses on asking the state and central governments to protect human rights by amending Section 377 of the Indian Penal Code so as to exclude consenting relationships among adults in private.
We seek your presence and solidarity as community members, allies, youth and upcoming leaders of this generation, to show your support for the cause of universal human rights, and opposition to the retrograde ruling of India's Supreme Court verdict of Dec 11, 2013 on Section 377.
Call for directions: Rupesh -95516-30213, Orinam – 98415-57983, Jaya – 98418-65423
* Tamil Nadu Rainbow Coalition is a network of groups in the state working on human rights and health issues, including those of sexual minorities such as transgender, gay, lesbian and bisexual people.
'தமிழ்நாடு வானவில் கூட்டணி' என்பது திருநங்கை/திருநம்பி (transwomen, transmen), ஓர்பால் ஈர்பாளர் (gay and lesbian), இருபால் ஈர்பாளர் (bisexual) போன்ற பாலியல் சிறுபான்மையினர்கள் உட்பட மனித உரிமைகள் மற்றும் உடல் நல பிரச்சனைகளுக்காக தமிழகத்தில் வேலை பார்க்கும் பல குழுக்களின் கூட்டமைப்பு. சென்னை காவல்துறையினரின் அனுமதியோடு வருகின்ற சனிக்கிழமை ஜனவரி 11, 2014 அன்று வள்ளுவர் கோட்டத்தில் ஒரு பேரணியினை நடத்துகிறோம். மாலை 3 மணி அளவில் தொடங்கும் இந்த நிகழ்வு, பதினெட்டு வயதிற்கு மேற்பட்டவர்கள், பரஸ்பர சம்மதத்துடன் தனிமையில் வைத்து கொள்ளும் பாலுறவுகளை பிரிவு 377-ல் சேர்க்காமல் அந்த சட்டத்தை மாற்றி அமைத்து, மனித உரிமைகளை பாதுகாக்க வேண்டும் என்று மத்திய, மாநில அரசுகளை கேட்டுக்கொள்ளும்.
உலக மனித உரிமைகளுக்காகவும் பிரிவு 377-காக இந்திய உச்ச நீதி மன்றம் டிசம்பர் 11, 2013 அன்று வழங்கிய பிற்போக்கான தீர்ப்பினை எதிர்க்கவும் உங்களின் மேலான ஆதரவை தெரிவிக்க ஒரு இளைஞர் மற்றும் இந்த தலைமுறையின் வருங்கால தலைவர்கள் என்னும் வகையில் உங்களின் வருகையையும் ஒருங்கினைத்த ஆதரவையும் வேண்டுகிறோம்.
வழிகாட்டுதலுக்கு தொடர்பு கொள்ளவேண்டிய தொலைபேசி எண்: ருபேஷ்- 95516-30213, ஜெயா- 98418-65423, ஒரினம்- 9841557983.
Delhi:
FB link to Right to Life and Dignity | गरिमापूर्ण जीवन का अधिकार
The Supreme Court judgement to uphold Section 377 and criminalize same sex desire and behaviour as 'unnatural' presents a serious challenge to the Right to Life and Dignity of LGBTQ individuals and to the Right to Sexuality of all citizens of India. There has been a lot of support to our struggle against these oppressive laws, from the media, political and people's movements, political parties, and government representatives as well. As the legal proceedings continue, let us remind ourselves of the battles we have already waged within our own lives and in the society that we live in, every single day of our lives. This struggle continues today with an even greater uproar to make ourselves be heard and be seen. We exist and we shall not be invisiblized. So this is the time to come out and reclaim the freedom. Freedom- that is rightfully ours!
We call on all of you who believe in equal rights and freedom without discrimination, as laid out in the Constitution of India; to come out with us on the streets and claim these rights.
This is a Call for Solidarity- within and with the queer community and with all other struggles for rights against oppression.
2 pm: Gather outside Mohan Singh Place (next to Rivoli), Connaught Place, New Delhi: We shall gather to collect the placards, flyers, flags and divide ourselves into small groups to do flash demonstrations in different metro lines.
4 pm: Come Together in Central Park, Connaught Place, New Delhi We will stay for as long as we can and end with a candle light vigil.
Do join us in large numbers and spread the word
भारत के उच्चतम न्यायालय का धारा 377 को ठीक मानकर समलैंगिक सम्बन्धों और भावना को अप्राकृतिक करार देना LGBTQ समुदाय के व्यक्तियों कि आज़ादी और गरिमापूर्ण जीवन के अधिकार और भारत के सभी नागरिकों के यौनिक अधिकारों के संघर्ष के सामने एक बड़ी चुनौती है। इस संघर्ष के लिए और कठोर कानूनों के खिलाफ मीडिआ, सामुदायिक और नागरिक अधिकार दलों और राजनैतिक पार्टियों की ओर से भारी समर्थन सामने आया है। कानूनी कार्यवाही तो जारी है ही, पर हमें याद रखना है कि हमने अपने जीवन में, और समाज में हर रोज़ यह संघर्ष किया है । आज इस संघर्ष में और जोश के साथ अपनी बात रखने और पहचान व्यक्त करने का समय है। बाहर आकर अपनी आज़ादी वापस लेने का वक़्त है। आज़ादी, जिसपर हमारा हक़ है !
शनिवार, 11 जनवरी 2014
दोपहर 2 बजे: मोहन सिंह प्लेस [रिवोली सिनेमा के पास ] कनॉट प्लेस (राजीव चौक) में मिलें।
हम वहाँ जमा होकर प्लेकार्ड, पर्चे झंडे लेकर अलग अलग दलों में मेट्रो पर चढ़कर प्रचार और प्रदर्शन करेंगे।
शाम 4 बजे: कनॉट प्लेस में सेंट्रल पार्क में सब फिर मिलेंगे
वहाँ प्रदर्शन और मोमबत्तियां जलाकर समर्थन व्यक्त करेंगे और जब तक हो सके, बैठेंगे।
अधिकतर मात्रा में शामिल हों और सभी को बताएं
Kolkata:
The Supreme Court Verdict which was out on 11th December 2013 stating that Section 377 of Indian Penal Code is not unconstitutional was a severe blow to the LGBT movement in India as the order exposed lacks of members belonging to the marginalized community of MSMs,
Transgenders, Hijras and such others to the risk of stigma, discrimination and violence. It also has an indirect impact on community based health projects which are running in the country as after the order there had been a drastic reduction of visibility of community people in the cruising areas in fear of getting victimized and tortured. Naturally they could not be accessed and brought under the HIV/AIDS and such other health services which is very likely to shoot up the infection percentage in India and in near future may take the shape of an epidemic also. The order is also a violation of some of our constitutional fundamental rights like rights of Equality and Equal Protection of Laws, right to not get
discriminated on the basis of sex or gender, right of freedom of expression and right to privacy including protection of intimate sexual relation.
Globally the LGBT movement has reached its peak and in many countries the gay rights have been made legal . In this present global scenario, the verdict of the court not only has sent wrong signals about our country but challenged our democracy of which with boost .
Nationally, in States and Districts already we have seen huge repercussions among the community in form of submission of various deputations, protest rally, press meet , public meetings etc and we must also ensure that the fire keeps on burning. So on 11th of January 2014 we have organized a meeting at the above venue which is open to all for the purpose of providing a space of dialog among the participants and exchanging their reactions and points of view. We are expecting substantial media coverage of the event. Many eminent personalities and prominent Community leaders have assured us of their presence. The inputs of the discussion will be used to develop future strategies to be
taken against the order.
We cordially invite you to be present in the meeting and share your views with us which will be very valuable and useful for strategy making and making future plans.
For Contacts please get in touch with Ranjita Sinha -9830027185; For Gokhale Road Bandhan-Ranjita Sinha